Panto 2013 – Alice in Wonderland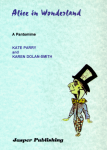 Message from your director, Judith Brooke (usually found behind the piano!!): The Pantomime for 2013 will be Alice in Wonderland written by Kate Parry and Karen Dolan-Smith.
Readings will be on Monday 18th June 2012, 7:30pm at the MI, opposite the rec in Western Road in Hailsham.
If you would like to read the first few scenes to get a flavour of this pantomime, click here.
Auditions will be on the following Tuesday 26th June 2012, 7:30pm at the Methodist Hall, opposite The Grenadier in Hailsham.
Judith looks forward to seeing you all. New faces welcome, please spread the word.